Reading Time:
5
minutes
Crownit Earn FREE Paytm Cash App
Earn Free Paytm Cash by doing Surveys and Playing Tambola on Crownit App
Crownit App, Crownit Survey Loot, How to play Tambola Game – Hello guys, we hope you are enjoying our free recharge tricks and loot deals. So you can also check an offer to get Free Rs.50 Bitcoins on signup from Coinswitch. Today we are providing an amazing offer to earn free Paytm cash every day from Crownit: fill surveys and win rewards app. Get your bills turned into rewards like iPhone XR, Gift Vouchers and more.
You'll earn 50 Crowns on your first approved bill. Crowns can later be redeemed to free Amazon vouchers and to earn more crowns, you could playing an amazing Tambola game everyday. So guys read the full details now and earn money daily by doing surveys from Crownit market research app. We will post new Crownit survey updates on Telegram Channel.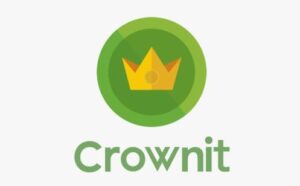 Crownit is India's most trusted online Market research platform & a full-stack agency providing consumer insights to brands & enterprises across Industries. By conducting various surveys on mobile every day for brands & agencies. They are helping them with market research requirements such as market analysis, consumer insights, market potential assessments & consumer feedback.
---
How to Earn Free Paytm Cash from Crownit App
1. First of All, Install the Crownit App from the below Link
2. Then Signup with a mobile number and accept Phone access & verify with OTP.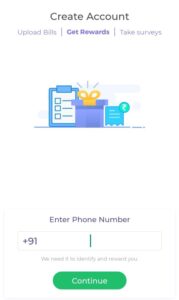 3. Crownit is Fun with Friends so you can log in with Facebook. You can also select "I will do it later". Then Enter your City to Continue.
4. Then on the main screen, you can see "Upload Any Bill". So you can start uploading bills like Grocery bills, Online shopping bill,s and Food delivery. You can upload all kinds of bills.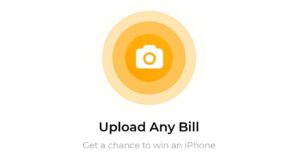 5. For one bill upload, you can play Tambola & other games for 3 days. we are explained about Tambola in the upcoming section
By uploading bills, you get more surveys and in return, you get more Paytm cash
6. The best way to earn free Paytm cash is from surveys as in the below image you can see just by doing 1 survey you can earn up to Rs.1250. Every day you can do new surveys and will earn free Paytm cash.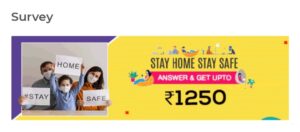 7. To get eligible for Surveys, always see the banner and answer related to the survey.
8. That's it…You can earn a lot of Paytm cash every day by doing more surveys.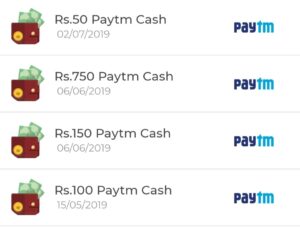 9. Watch the full video in the next section for the Crownit App Tour to know how to earn crowns by playing Tambola.
---
How to Earn Free Crowns from Playing Tambola Game
As we told in the previous section that you can earn crowns which later can be redeemed for amazon vouchers. The only way to earn crowns is by playing Tambola (2 Crowns = 1 Rupee). So here we are going to explain how to play the Tambola game(also called Housie) to earn free crowns. But for better understanding, you can watch the full video at the end of this post, in which we explained the Crownit app and how to play the game.
1. In the home page, top right corner you see the game logo, click on that to enter the game Arena or open it on the home screen.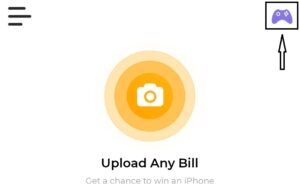 2. you can see how many days you can play the game out of 30 days which depends on your bill uploads. (For one bill upload you can play Tambola for 3 days)
3. Scroll below and click on the Tambola game banner. Tambola games can be played only at 2 PM and 9 PM every day. So visit the Game arena by this time.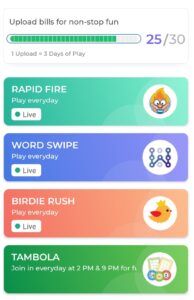 4. So Join the game and You can select 1 or 2 tickets. For beginners select 1 ticket and once you know the game you can select 2 tickets.
5. The given Ticket has 15 random numbers from 1 to 90 and during the game time, the number will be called out and you need to strike out that number if you have that in your ticket.
6. There are many Tambola winning patterns like Topline, Middleline, Bottomline, Left House, Right House, All Odd, All Even, Six Corners and Full House.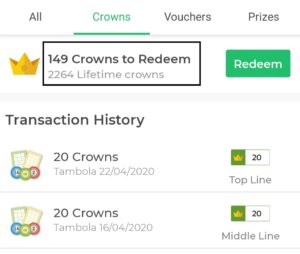 7. So if the numbers in your ticket have struck out with any of the above patterns. you will be eligible to claim for Crowns. See the next section to know the Winning combinations and Prizes.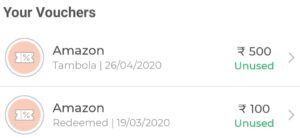 8. If you are confused with the above details. Watch the full video to know how to play this game.
9. You can also play other games like SNACK MAN, RAPID FIRE, WORD SWIPE, SAVAGE REVENGE, VEGETABLE VS CHEF, and BIRDIE RUSH and you can earn crowns.
10. Once you have enough Crowns, then you will be eligible to redeem to Coupons, and Amazon Vouchers or you can recharge your number for free.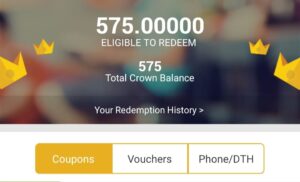 ---
Crownit App Refer and Earn Free Crowns

1. Open Crownit App & Tap on the Invite tab in the Bottom Menu
2. Share your Crownit Referral Code with your Friends
3. Once they signup and upload the first bill, you will get Assured 50 Crowns
Note: 2 Crowns = Rs.1 Real Cash (Redeem to Gift Vouchers)
4. Done !! Enjoy…
---
Tambola Winning Combinations and Prizes
| Combinations | Prize | No. of Winners |
| --- | --- | --- |
| Early 5 | 1 Gem | 100 |
| Bottom Line | 20 Crowns | 100 |
| Middle Line | 20 Crowns | 100 |
| Top Line | 20 Crowns | 100 |
| Six Corners | 150 Crowns | 5 |
| All Even | 150 Crowns | 5 |
| All Odd | 150 Crowns | 5 |
| Right House | 300 Crowns | 1 |
| Left House | 300 Crowns | 1 |
| Full House | Rs.500 Amazon Voucher | 1 |
---
Tambola Amazon Voucher Proof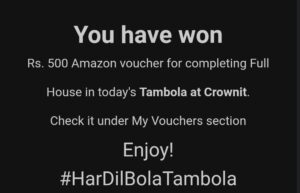 ---
How to Win Free Vouchers & Crowns From Weekly Rush
When you upload a Bill you get Weekly Rush Tickets and these tickets will call out randomly on the Weekly Rush game. So if they call your ticket number then you get many gift vouchers from top brands. Join Every Friday at 3 PM to Play Weekly Rush.
Weekly Rush Prizes
| Prizes | No. of Winners |
| --- | --- |
| iPhone XR | 1 |
| Lifestyle Rs.2000 Voucher | 9 |
| BMS Rs.200 Voucher | 150 |
| 30 Crowns | 4000 |
| 20 Crowns | 5000 |
| 1 Gem | 5000 |
---
Paytm Cashback Proof is Added Below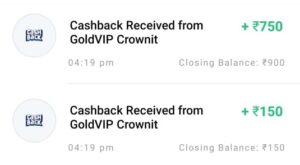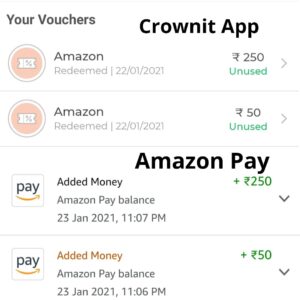 ---
Need More Details? If you still have any doubts about this offer or need more information, Just comment below and we'll surely help you.
Don't forget to share this article on WhatsApp, Facebook, Instagram, and Twitter
0.0 out of 5 stars (based on 0 reviews)