Reading Time:
2
minutes
Adani Free Sampling Offer
How to Get Free Cosmetic Samples from Adani Free Sampling Store
Adani Cosmetic Products, Adani Free Samples, Adani Products – Hello Friends, We all know that Free samples in India are raining these days, we regularly publish Free Trial Products and recently posted Bewakoof Free Shopping Offer. Here we are back with another Free Sample store offer from Adani Sampling Offer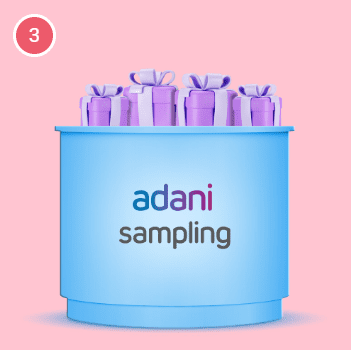 Adani Sampling is an end-to-end product sampling platform that lets you connect with potential customers from a ready audience. Through digital dashboards, the platform lends itself to merchants as well as admins to provide real-time updates on inventory, spends, customer feedback, and more.
Product sampling is one of the most efficient ways to get people to try out your product for free and turn them into potential customers. As they test your product, you get to test their sentiments, receive genuine feedback and ultimately, find your way to better sales.
---
How to Get Free Cosmetic Samples from Adani Free Sampling Store
Step 1: Spot the Adani Sampling Store and QR Code: Keep an eye out for the Adani Sampling QR codes displays at their stores which can be an Adani airport or any other business, Adani Sampling installs promotional collaterals with a QR code, at various touchpoints. These QR codes are designed to capture attention and entice individuals to participate.

Step 2: Scan the QR code: use your phone QR code scanner app and scan the QR code. That will redirect you to Adani Cosmetics Sampling Offer webpage.They select your product sample(s) and get details on how and where to collect it.
Step 3: Fill in your Details: You will receive an SMS asking to share your feedback. Fill in all the details asked like name and contact details and validate your details with OTP
Step 4: Pick your Free Product: Once it is verified, you can claim and collect your Adani Free Sample on the Store
---
Need More Details? If you still have any doubts about this offer or need more information, Just comment below and we'll surely help you.
Don't forget to share this article on WhatsApp, Facebook, Instagram, and Twitter
0 out of 5 stars (based on 0 reviews)