Reading Time:
2
minutes
How to Block Youtube Ads
Working Tricks and Methods to Block Ads on youtube
Here we are going to provide you with two effective methods to block youtube ads. We are doing more research on other tricks to block ads and we will update the same here as well as on our Telegram channel.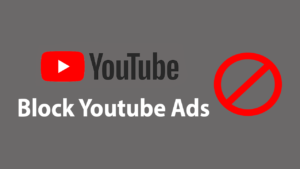 Using adblocker method
One way to block ads without paying is by using AdBlock software or browser extensions. You can use adblocker applications on your mobile devices or use a web extension on your desktops or laptops.
This trick will not only block youtube videos but also block website ads on your browser. It will help you to block all kinds of ads like pop-up ads, banners, intermediate ads, and ad trackers which show promotions and other suggestions based on your online behavior and your past search history
There are very few adblockers that work effectively and may be able to block ads on youtube. Selecting a good adblocker can save you time while watching videos on youtube by blocking ads.
Some adblockers you can use:
AdBlock
AdGuard
AdLock
Ghostery
AdBlock Plus
Luna
These adblockers block advertisements by using filtering and whitelisting. Some adblockers even allow users to create their own rules to filter out some ads while allowing other ads based on one's interest. The way how VPNs filter out the IP address of the device so that it's not visible to spying eyes, ad adblockers shut out ads on websites based on filtering rules
Disclaimer: Advertising is one of the primary sources of revenue or the only monetization option for Youtube creators. Please consider allowing ads on Youtube if you want to support the platform's monetization model and support creators
---
Youtube Premium Subscription method


YouTube Premium is a paid membership to help you elevate your experience on YouTube and other YouTube apps. It's available in many countries and in India, with this premium subscription activated, there will be no ads shown to you as you are a premium Youtube user.
There are 2 prepaid and subscription plans available right now to activate Youtube premium which you can subscribe 2 months or 3 months plan by paying the subscription charges. Prices start at ₹129/month. But the best part here is we are going to provide working tricks to get a Youtube premium subscription for Free as well.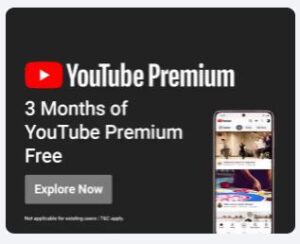 This subscription provides many benefits like ad-free content, background play that allows you to play videos while using other apps or on the lock screen, You can download videos and watch millions of videos uninterrupted & you can even use Youtube Music and explore the world of music with new and improved music app & last but not the least is offline play in Youtube Kids app which helps your kids to watch without ads
---
Need More Details? If you still have any doubts about this offer or need more information, Just comment below and we'll surely help you.
Don't forget to share this article on WhatsApp, Facebook, Instagram, and Twitter
0.0 out of 5 stars (based on 0 reviews)