Reading Time:
4
minutes
Nescafe Sip, Chill and Win Offer
Win Up to Rs.500 Amazon Voucher, Instax Camera or JBL Flip From Nescafe Offer
Nescafe Coffee Offer, Free Amazon Vouchers – Hello Friends, Hope you guys are doing well these days with our Earn Free Paytm Cash Trick and also, we recently posted an amazing offer to Win a Free Makeup Kit from Myglamm. Today we are back with another loot offer where you can win Free Amazon Vouchers

In this article, we are going to provide you with a leaked Lot code of Woohoo Nescafe Coffee Offer where you just need to send an SMS with the given Lot Code to Win Free Amazon Vouchers worth up to Rs.500 or Instax Camera or JBL Flip
Also, Read: Get Free Bitcoin on Signup to Coinswitch Kuber – Instant Redeem
---
How to Win Free Amazon Voucher from Nescafe Offer
1. First of All, Visit Any Retail Store and Purchase the NESCAFÉ Ready-to-Drink Cold Coffee Promo pack. (NESCAFÉ Chilled Latte, NESCAFÉ hazelnut, NESCAFÉ Intense Café)
2. Then Find the 10-character alphanumeric Lot no. on the Nescafe Pack
3. Now register by sending SMS in the below format to the below Number
NESCAFE <SPACE> "10-character Lot. No." to 7036184000
4. We are giving away the Leaked Lot Number to our Readers
LOT Number – 11671530MA
NESCAFE <SPACE> 11671530MA to 7036184000
5. Now you will get a unique code & a link via SMS. You'll get within 30 Minutes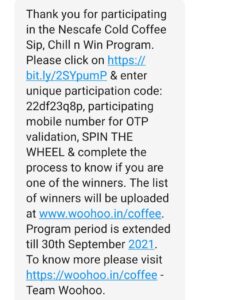 6. Now click on the link and Enter Mobile Number and the Unique Code given in the SMS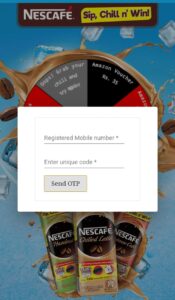 7. Click on Send OTP and Validate your Mobile Number with an OTP
8. Now spin the Wheel and it will show on the screen if you are a winner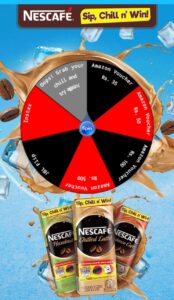 9. Done !! If you won, then you will get Voucher Code and Steps to Redeem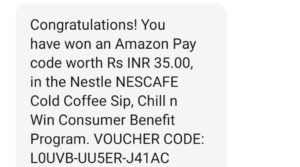 Note: This offer is Valid 3 Times Per Mobile Number, So Send an SMS once a Day and Try for 3 Days. They may disqualify you if you send more than 3 times.
Tips: There will be a Winner Per Minute, So Always try to send an SMS in the Less Traffic Hours Like in the Afternoon or Midnight
---
Know More About this Offer
The Program will end on 30th September 2021
One mobile number can participate maximum 3 times & can win maximum up to 1 time.
The terms and conditions apply to the Program "Nestle Nescafé Ready to Drink Cold Coffee Consumer Benefit Program" for consumers purchasing the product unit worth Rs.35 that carries communication regarding the offer wherein consumer can get a chance to win Amazon Pay code of Rs.35 or Rs.50 or Rs.100 or Rs.500 or Instax Camera or JBL Flip.
There will be maximum 1000 winners selected everyday post-consumer does SPIN THE WHEEL & system selects maximum 1000 winners. Participant will get to know on real time basis whether they are a winner or not. Randomizer system is a proprietary product which is coded in software system based on the program logic.
Participant either can win Amazon Pay Rs.35, or Rs.50 or Rs.100 or Rs.500 or Instax Camera or JBL Flip or get a better luck next time.
Participant who wins Instax Camera or JBL Flip will have to provide details including but not limited to Name, Contact Email ID, Contact number, shipping address, address proof, Nestle Nescafé Ready to Drink Cold Coffee Consumer Benefit Programpack image etc.
Prizes including Instax Camera & JBL flip are indicative only & actual prize may vary. Prizes are subject to availability, continuation of model & other factors.
The consumer needs to find the 10-character Lot no. on Nestle Nescafé Ready to Drink Cold Coffee Consumer Promo pack and SMS the same in the correct format on the number provided above. This 10-character Lot no is mentioned on top of the Nestle Nescafé Ready to Drink Cold Coffee Consumer Benefit Program pack
Basis valid SMS entry, participant to get a unique code & SPIN THE WHEEL link. Participants need to click on the link, enter unique code, enter mobile number & do an OTP validation to SPIN THE WHEEL.
Nestle India Limited and Partner Agency shall have a right to ask for the original packs in case of any query raised by the Participants during the Program Period, non – submission of which shall render the Participant as not eligible to participate in the Program.
Participation in this Promotion is purely voluntary and optional. This Offer is not in conjunction with any other Offer. Products are also available without this Offer. By participating in this Offer, each participant is deemed to have accepted these terms and conditions.
Participants can win each prize only once using a particular mobile number. For the sake of clarity, it is reiterated that Participants will be eligible to win a maximum up to 1 reward out of 6 reward option from a single mobile number throughout the Campaign Period.
During Spin the Wheel, system will select maximum up to 1000 winners every day basis the real time randomizer.
Participant who wins Amazon Pay code will get Amazon Pay code of up to Rs.500 on their mobile number.
For Instax Camera or JBL Flip winners, Nestle India Limited at its discretion may ask the Winners to furnish the any or all the following documents: Aadhar, Pan Number, ID Card, Passport, Driving License, or similar government ID.
Winners will be required to retain and furnish on demand the wrapper of the pack with the winning code.
Winners will be required to furnish proof of ownership of participating mobile number (Mobile bill or a letter from their Network service provider clearly stating the mobile number, their name, address etc.)
---
Need More Details? If you still have any doubts about this offer or need more information, Just comment below and we'll surely help you.
Don't forget to share this article on WhatsApp, Facebook, Instagram, and Twitter