Reading Time:
4
minutes
Munch Maha Prizes LOT Code Offer
Win Free Paytm Cash, Headphone and Tablet Using Munch Maha Prizes LOT Code
Munch Maha Prizes offer, Paytm Offers, BigCity Promotions Offer – Hello Friends, Here we are back with another Loot from Munch Maha Prizes offer where you can win Free Paytm Gift Voucher, Headphone, Table or Smartwatch for Free. Recently we have Published many offers to Earn Free Amazon Vouchers Trick by filling short surveys and Yippee Loot Maal Offer to Earn Free Flipkart Vouchers

In this article, we are providing you full details about the Munch Maha Prizes Lot Code offer where you have to buy a Munch pack and you will get a Lot Number on the side panel, then Just send an SMS to win Free Paytm Cash and Gadgets. But the good thing about here is we are going to provide you with the Leaked LOT Number so that you need not to buy a Munch pack
---
Send SMS and Win Free Paytm Cash and Gadgets from Munch Maha Prizes Offer
1. First of All, Visit Any Nearby Store and Buy a promotional Munch pack. If you don't want to buy, then use our Leaked LOT Code added below
2. Make Sure The Offer is Mentioned on the Munch Pack before purchase
3. We Have Given a Leaked LOT Number. So you can use any of the Below Leaked Codes
Leaked LOT Code – 20066640PA
4. If you Purchased, Then You can Find the LOT Number on the Side Panel of the Pack
5. So Copy the LOT Code Given on the Munch Pack or Above Given Leaked Code
6. Now send an SMS with a 10-digit valid LOT Number to the below given Mobile Number in the Below Format
MUNCH <SPACE> 20066640PA <to> 9902391200
7. After sending the SMS, You will get a confirmation through an SMS about your participation.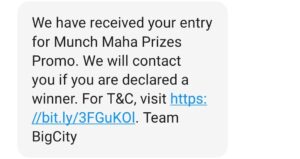 8. Done with your Participation and wait for the SMS if you are a Winner
Tip: Send SMS in the Afternoon or during Non-Peak hours. So that chances of Winning is More. You Can Send SMS Only From 10 AM to 8 PM as per the Offer Terms
9. Winners will receive a congratulation SMS along with a link & a winning code
10. you need to click the link, Enter the Name, Mobile Number and Winning code & verify with OTP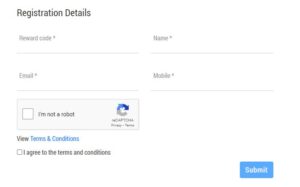 11. Total 1000 Winners will win Daily as below mentioned prizes
993 winners per day will receive Rs.50 Paytm Cashback or grand Prizes
1 winner per day will receive a branded tablet
2 winners per day will receive branded smartwatch
4 winners per day will receive branded headphone
12. You can Participate a Maximum of 3 times per Mobile Number
13. Done !! Enjoy…
14. Join us on the Telegram Channel for New Leaked LOT Codes
---
More Details About This Offer
Offer is valid only in India from 09.00:01 AM on 10/2/2022 to 20:59:59 PM on 11/3/2022
The Offer shall run on 25G Munch Pack worth Rs 10. Packs other than offer packs may be available, however, this offer is strictly available for the offer packs only.
Customer can participate maximum 3 times during the program period from one mobile number
Participants stand a chance to win either Rs.50 Paytm Cashback or a Grand Prize. 1000 winners will be selected every day During the Program Period.
Time of participation will be defined as the time at which the entry is received through the SMS mode of participation at Nestle India Ltd computer.
Entries coming outside the Program Period defined above will not be considered and will be summarily rejected
Once the Winners are selected, the Partner Agency appointed by Nestle India Ltd. shall process the gift for the winner on their registered mobile number.
This Program is valid only in India except for the state of Tamil Nadu.
For Merchandise winners: the winners will be required to upload a copy of Address proof (Electricity bill or Mobile Bill or Driving License or Voters ID) & Identity Proof (PAN Card or Aadhar Card).
For Gifts above Rs.10,000, copy of PAN Card and Aadhar card is mandatory.
No prize will be awarded if the information presented by the Participant(s) at the time of entering the Program is not factually correct.
Images on the promotion pack and website are for representative purpose only. The images might differ from actual product.
A participant, subject to valid entry, can win a maximum of 1 Reward during the program period, from a mobile number and address.
From the Valid Entries received, the Organizer will select 30,000 entries in the entire promotion period) who will win Rs 50 Paytm Gift Voucher or Headphones Or Smart Watch Or Tablet throughout the Promotion Period ("Winners").
Winners will be selected by the Organizers using randomizer software during the promotion period.
Winner list be available on www.mahaprizes.bigcityexperience.com
The last day to claim the reward is 20th March 2022. In case the winner fails to claim the reward, the entry will stand forfeited after the said date.
For the above, winners will receive a reward code and weblink to claim the reward, in case the winner fails to claim the reward will stand forfeited on 7th April 2022
The winner generation for Prizes will be done on the basis of Valid LOT NO. + Unique mobile number + Address Proof / Identity Proof.
---
Need More Details? If you still have any doubts about this offer or need more information, Just comment below and we'll surely help you.
Don't forget to share this article on WhatsApp, Facebook, Instagram, and Twitter