Reading Time:
3
minutes
Maggi Super Bonanza – Win Smart TV or Smartphone
Win Smart TV or Smartphone From Magg Super Bonanza – Lot Number Added
Maggi Super Bonanza, Win smartTV, Win Smartphone, Maggi Noodles Offer, Maggi Offers, Maggi atta noodles offer, Hello Folks, We hope you guys are enjoying our Free Paytm Cash earn Tricks & we all know that Freebies are raising nowadays and you might have read how to order Free contact lenses that we posted recently in our blog. Today we are giving a leaked LOT number of Maggie Super Bonanza so that you could win Free SmartTV or Smartphone.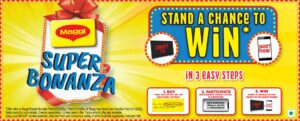 Maggi invites you to Super Bonanza Contest starting on this New Year's eve in 2021. Now along with assured savings on every pack, get an opportunity to Win a smartphone or a smart TV every hour, so that you can actually start your New Year with a big bang. Enjoy your delicious Maggi Noodles & participate in Maggi Super Bonanza contest to Win Bumper prizes!
---
How to Win Maggi Super Bonanza Contest
1. Buy Maggi pack from any retail store or online. Buy any of these Maggi AATA 290gm, Maggi OATS 290gm, Maggie 6 420gm or Maggi 8 560gm
2. Find LOT Number On the Side of the pack. We have added a leaked LOT number
3. Send SMS in the below format to the below Number
BONANZA 03626640CX to 9902391200
4. Every Hour Lucky winner will win SmartTV and Smartphone.
5. Visit the Offer Website & Scroll down to See Winner's List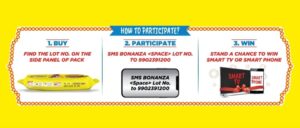 Disclaimer – No Wrappers will be provided for the LOT Number given above. In case, anybody becomes the winner, it's your own responsibility to produce the wrappers.
---
More Details About the Offer
The Program will start at 12:00:01 AM on 1 Jan 2021 and end at 11:59:59 PM on 15 February 2021. There entries must be done in the allotted time frame of 10:00:01AM to 8PM every day Any entries attempted and/or made before or after the prescribed/allotted time will summarily be rejected.
The participants are required to keep the pack with the batch code used for participation safe, as they will need to submit a copy of the pack with the visible winning code for KYC verification if they are shortlisted as a winner.
A draw through random scientific selection will be conducted every day for the previous day's entries for selection on the winners
A total of 460 winners will be selected wherein winners will be announced for every minute between 10AM to 8PM (i.e. 460 Winners for 460 Hours) through a scientific randomizer method.
Prizes will be given subject to the winner satisfying the verification process of NESTLÉ INDIA LTD. or the Partner Agency.
Participants have a chance to win 1 time only from a single mobile number
The winner generation will be done on the basis of Valid Code and mobile number
Nestlé India Ltd. and Partner Agency shall have a right to ask for the original packs in case of any query raised by the Participants during the Program Period, non – submission of which shall render the Participant as not eligible to participate in the Program.
The shortlisted winner will be contacted via a call by Nestle India's Partner Agency. A total of 2 calls within 48 hours shall be made to reach out to the shortlisted winners for verification.
The Program is applicable only for participants residing in India. The Program is not available where prohibited by any law.
---
Need More Details? If you still have any doubts about this offer or need more information, Just comment below and we'll surely help you.
Don't forget to share this article on WhatsApp, Facebook, Instagram, and Twitter