Reading Time:
2
minutes
LetsShave Pro 4 Razor For FREE
LetsShave Pro 4 Razor For FREE Worth ₹249 | Pay Only Shipping
Free Product Sample in India, Free Trial Pack, Free Razor, Free LetsShave Pro 4 Razor – Hello Friends, We hope you guys are enjoying our Freebies alerts on this blog, We recently published an offer to Get a Free Video Card from Flam and get a Fastag for Free from Ackodrive. Today we are back with another Free Trial Offer from LetsShave where you will get a Free Razor Sample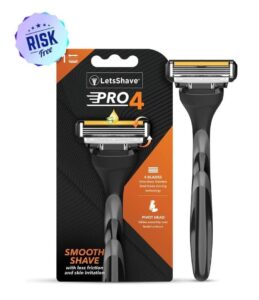 LetsShave Pro 4 Razor is Selling at ₹249 on Amazon or Flipkart and Here you will get it for Free from the LetsShave official site. They are giving away this product as a Free Trial offer. But here you just need to pay a small Shipping charge of ₹58. It's a Loot deal because you can order as many as you want from different accounts
LetsShave Razor is made with KOREAN TECHNOLOGY, A Precision Engineered and Ergonomically Designed Pro 4 Razor for men with 4-blade technology to provide a perfect shave in a single stroke for a smooth experience. It is a perfect choice for a man who appreciates quality and comfort on a regular basis.
Also, Read: Udemy Premium Paid Courses for FREE
---
How to Get LetsShave Pro 4 Razor For FREE
1. First of All, Open Razor Free Sample Order Page from the Below Link
2. Now you will see the product price as ₹0 Instead of ₹299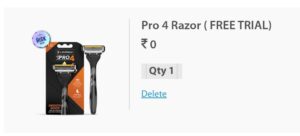 3. Just Click on ADD Button at the bottom of the Screen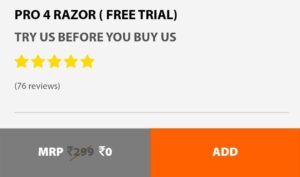 4. Now Proceed to Checkout and Fill out your Mobile Number & Shipping Details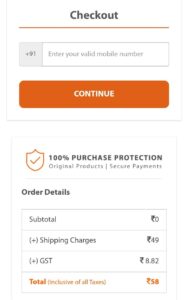 5. Then log in to your Account OR Just Select Checkout as Guest Option
6. Now Pay the Shipping charges with any available Payment mode
7. Done !! It will be delivered to your Address in few days
---
LetsShave Pro 4 Razor Product Details
4 Ultra-sharp stainless-steel blades, carefully positioned on the angulated blade platform to deliver the perfect shave in a single stroke.
A flexible pivoting head to bend over your facial contours to make shaving easy and without any risk of getting nicks and cuts.
The soothing, lubricating strip at the top is infused with Aloe Vera extracts, Vitamin E and Argan Oil to moisturize your skin and soothe any irritation, side by side.
A large, soft rubber fin at the bottom of the cartridge to prepare and protect your skin before shaving.
The blades are placed at an optimum gap to ensure quick and easy rinsing to keep the blades clean for an extended blade life.
The ergonomically designed, classic, long, slender handle with a non-slip rubber grip, provides excellent control, even in wet conditions.
Common docking system where any LetsShave Pro Cartridge can fit any LetsShave Pro Razor Handle.
Recommended for hard and thick hair type.
---
Need More Details? If you still have any doubts about this offer or need more information, Just comment below and we'll surely help you.
Don't forget to share this article on WhatsApp, Facebook, Instagram, and Twitter