Reading Time:
4
minutes
Jio Emergency Data Loan Facility
Jio Data Loan, Free Jio Data, Jio Loan Recharge Emergency Jio Data – Hello Friends, here we are back with another article with each and every information on Jio New Feature called 'Jio Emergency Data Loan facility'. We already posted Jio Recharge Coupons and Cashback Offers for this Month and JioCloud Free Cloud Storage Offer where you can store unlimited on Cloud
Jio has recently launched an amazing feature on MyJio App for all Jio Prepaid users to Recharge immediately once you run out of data and pay later for the same, this Emergency Data Loan facility is now available on Myjio App. Jio allows you to borrow up to 5 vouchers of 1 GB each. Later you have to Pay Rs.15 for every 1 GB of Data Loan.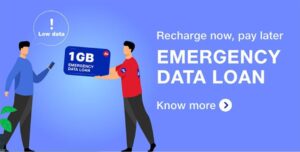 Once you opt for an emergency data loan pack, data benefit will trigger immediately. Currently, all Jio prepaid smartphone users can avail this facility. But your timely data loan payment will ensure that you can avail of data loan packs in case of future emergency situations.
We all know that there is an option to recharge a data pack of Rs.15 to get 1 GB of additional data when your existing data is over for the day, but sometimes it's difficult to Recharge when you don't have the internet and this emergency data loan facility will help you to recharge immediately and pay later for the same.
What is Jio Emergency Data Loan Facility?
Jio's 'Emergency Data Loan' Facility provides the flexibility of 'Recharge Now and Pay Later' functionality to users who run out of their highspeed data quota and are unable to recharge immediately. Under this facility, Jio is allowing prepaid users to borrow up to 5 Emergency Data packs of 1GB each (Valued at ₹15 / pack)
---
How to Get Jio Emergency Data Loan facility?
1. First of All, Open the MyJio App and go to the menu on the top left of the page
2. Select 'Emergency Data Loan' under Mobile Option or Scroll Down on the Home to see Banner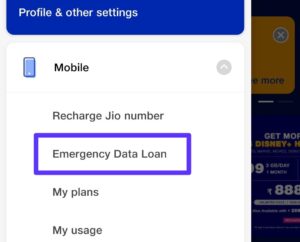 3. Click 'Proceed' on the emergency data loan banner
4. Select the 'Get emergency data' option
5. Click 'Activate now' to get the emergency loan benefit
6. Emergency data loan benefit is activated.
Note: This Data Loan service has been currently introduced for Jio smartphone prepaid users only and JioPhone users Can't avail of Emergency Data Loan !!
---
How to do payment for the Jio Emergency Data Loan amount
1. Open MyJio App and go to the menu on the top left of the page
2. Select 'Emergency Data Loan' under mobile services
3. Click 'Proceed' on the emergency data loan banner
4. Select Pay for 'Emergency data Loan' option
5. Total loan amount reflected for payment
6. Select any online payment option to proceed
7. Jio Emergency Data Loan facility counter auto resets to 5
8. You can reuse your data loan facility once you have made payment for the first set of 5 emergency data loan vouchers.
---
Jio Emergency Data Loan Offer Terms and Conditions
By availing the emergency loan for data vouchers, the customer agrees to following terms & conditions.
Emergency loan for data vouchers of Rs.15 each, providing 1 GB high speed data, is being made available to Jio smartphone prepaid users
The emergency data loan facility is being extended to the subscribers to tide over their data requirements, at the times when they are unable to recharge. RJIL reserves all rights to discontinue this facility at any time, at its own discretion.
The data vouchers on emergency loan are available only on expiry of the data limit under a valid recharge plan to Jio subscribers.
One subscriber can opt for maximum of 5 Emergency loan data vouchers of Rs. 15 each, at a time. The subscriber is required to make payment against the vouchers as soon possible.
Post reaching the maximum limit of 5 vouchers, the subscriber will be required to make payment against the loan of data vouchers to avail the facility again.
By availing the data loan facility, the subscriber is entering into a contractual obligation to repay the loan amount. Accordingly, the customer is requested to clear the pending amount before disconnecting the services or porting out to other service providers.
In case of non-payment, RJIL reserves the right to recover the loan amount, as and how it deems fit.
The data loan voucher facility can be availed through a single click on the self-care app MyJio and on SMS sent to you on expiry of data quota.
The customer can repay the loan amount through MyJio and re-enjoy emergency data loan offer.
Unused data will be forfeit at the time of main plan expiry. Data rollover option not available.
RJIL reserves the right, at its sole discretion, to modify these Terms & Conditions or any part thereof at any time without prior notice, if so required in view of business exigencies and/or guidelines issued / amended by TRAI, Department of Telecom (DOT) and/or such other statutory agency. The changes in terms and conditions will be available on our website www.jio.com and MyJio app.
These terms and conditions are in addition to CAF terms and conditions and Jio Prime terms and conditions
---
Need More Details? If you still have any doubts about this offer or need more information, Just comment below and we'll surely help you.
Don't forget to share this article on WhatsApp, Facebook, Instagram, and Twitter