Reading Time:
4
minutes
EazyDiner Free Prime Membership
Get FREE EazyDiner 3 Months Prime Membership Worth ₹525
Eazydiner Free Membership, Eazydiner Offers, Free EazyPoints – Hello Friends, Hope you are doing well with our Free Membership Offers. Today we are back with another Free membership offer from Easydiner where you will get Free for 6 Months Using the Coupon Code from Timesprime. We already posted tricks and offers to get Free Zomato Pro Membership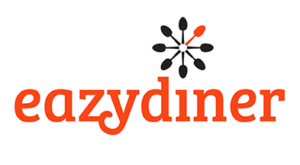 EazyDiner has been created by a team that is extremely passionate about food, wine and all things fine. As a collective group of Chefs and Hoteliers who have worked in some of the best hotels and restaurants around the world. It is this love and passion for eating and exploring that brought us together to create EazyDiner.
EazyDiner has all the answers for the most enjoyable, authentic and friction-free table booking experience. With an instant confirmation of lesser than 18 seconds, you can now book over 10,000 and over 150 cities in India & Dubai on our swanky website or mobile app.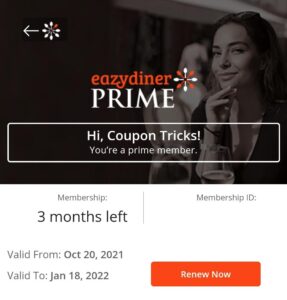 Eazydiner Offers and Earns EazyPoints
With every meal you book through EazyDiner, there comes a phenomenal deal ranging from free alcoholic drinks to up to 50% off on your total bill and providing pre-paid discounted meals and vouchers, including up to 50% off at Chaayos, Burger King and many others!
With each booking, you also earn EazyPoints, which can be redeemed for an array of delicious treats. You earn points for booking through EazyDiner as well as by leaving user reviews on restaurant profiles. The more points you earn, the more delicious and exciting the rewards become!
EazyDiner Prime Membership Benefits
Save up to ₹3,000 every time you eat out with a guaranteed 25% to 50% discount at premium bars and restaurants.
Earn 2x EazyPoints and redeem them for free meals faster.
Joining Bonus of 500 EazyPoints.
Extra ₹100 off over and above the restaurant offer on all Delivery orders. Forever.
---
EazyDiner Prime Membership from Timesprime Offer
Times Prime is an exclusive membership program that touches and elevates every aspect of your life. As a member of Times Prime, you gain access to a wide range of exclusive content with great benefits from the brands you love. It's a one-stop shop for all your entertainment and lifestyle needs.
Eazydiner 3 Months Free Premium Subscription is one of the many benefits of Timesprime. So you can get it on Flash sales where they provide big discounts and cashback on Timesprime subscriptions. we regularly post Timesprime Coupons on this blog as well as on our Telegram Channel.
Follow the below Steps to Claim Offer
1. Open the Timesprime App and Log in with your Mobile Number
2. Click on Benefits and Scroll Down, Then you will see Free 3 Months Eazydiner Offer Banner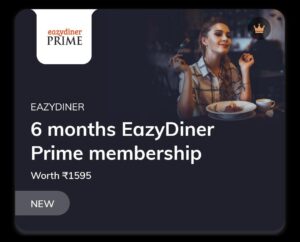 3. Now Tap on That and Click on Generate Coupon
4. Now Claim the Coupon Code on Eazydiner App. Check Next Section for Steps
5. Install the Eazydiner App and Avail of Prime benefits Free. Enjoy!!
Note – This Offer is Only For Timesprime Members, You Can get Timesprime 1 Year Membership For Free on Flash Sale and we will post it in this Blog as well as on our Telegram Channel.
---
How to Signup and Claim EazyDiner Prime Membership for Free
1. First of All, Visit the Eazydiner Signup Page from the below Link
2. Now from the top right corner, Tap on the Signup button
3. Now Signup Using your Mobile Number with OTP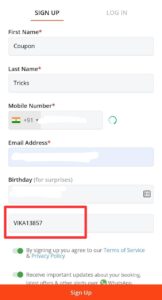 4. Enter your Name, Email, and Below Eazydiner Referral Code and Signup. So you will get 500 Eazypoints + ₹300 Off Coupon Code for Using a Referral
Eazydiner Referral Code – VIKA13857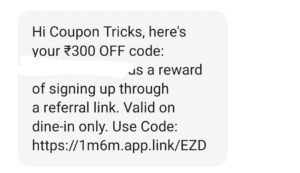 5. Now Select EazyDiner Prime 3 Months Plan & tap on the Pay button
6. Now Enter the below Coupon Code for 100% Off + you will get 1000 Eazypoints
Eazydiner Coupon Code – AMA4O1NXE | AVENDUS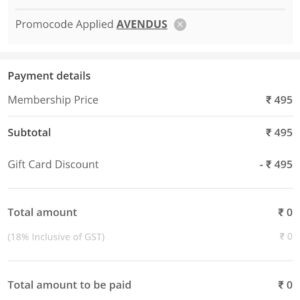 7. Now Install the Eazydiner App from the below Link and Login to use
8. Done !! Enjoy 3 Months of Eazydiner Prime Membership for FREE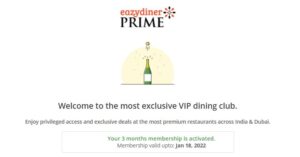 ---
Follow Below Steps For Desktop Website Users
Follow the Above Steps Till Step 4
Then go to Menu > Click on 'Gift Cards'
Paste This Coupon in the Gift card box – AMA4O1NXE | AVENDUS
Now Go to the Eazydiner Prime Membership Page
Select 3 monthly plan
Paste the Same Coupon again, it will be successfully applied
Done !! Enjoy 3 Months of Eazydiner Prime Membership for FREE
---
Need More Details? If you still have any doubts about this offer or need more information, Just comment below and we'll surely help you.
Don't forget to share this article on WhatsApp, Facebook, Instagram, and Twitter
0.0 out of 5 stars (based on 0 reviews)