Reading Time:
3
minutes
Win Smartphone or Free Recharge
Center Fresh Loot – Win Free Recharge or Smartphone – LOT No.s Added
Hello Folks, We hope you guys are enjoying our Free Paytm Cash earn Tricks. We regularly update Udemy Premium courses for Free in our blog and enroll to courses for Free. Freebies are raising nowadays and you might have read how to order Free contact lenses that we posted recently. Today we are giving a LOT number of Center Fresh Offer to make you win Free Rs.100 Recharge or Win Smartphones

Center Fresh is running this Freebies Campaign and they are giving away Rs.100 Free Recharge and Smartphone to all who buy Center Fresh pack with Offer banner on the Pack which is valid only on Center fresh Mono pack of 3.0g/Rs.1, 3 -layer gum pack of 7.2g/Rs.5 or Center Fresh Mint pack of 4.5g/Rs.10.
This Center Fresh Campaign is Running For 2 Months and There Will be Free Recharge Winner on every minute and Free Smartphone on Every Hour. So you Must try with our provided LOT Numbers and Win Free Recharge and Smartphone. Also, You can Buy new Center Fresh and Send New LOT numbers. Send your LOT Numbers in the Comments Below and Help others to Win.
Also Check – KitKat Grand Break LOT Codes. Win Cash Money and Bluetooth Speakers

Center Fresh Offer Dates and Prizes
| | |
| --- | --- |
| Center Fresh Loot Offer | Dates and Prize Details |
| Campaign Time | 7th February to 14th April 2021 |
| Number of Recharge Winners | 51240 Winners |
| Number of Smartphone Winners | 854 Winners |
| Pre-Contest Time | 12th January to 13th February |
| Pre-Contest Winners | 1000 Winners |
---
How to Win Free Recharge and Smartphone From Center Fresh Campaign
1. First of All, Purchase Center Fresh Pack and Make sure Offer Mentioned on the Pack
(Offer Valid Only on Center fresh Mono pack of 3.0g/Rs.1, 3 -layer gum pack of 7.2g/Rs.5 or Center Fresh Mint pack of 4.5g/Rs.10)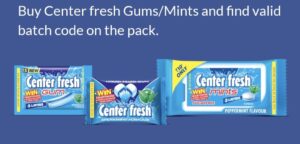 2. Now Tear the Pack and There will be 4 Digit Batch Code Inside the Pack
3. Note or Copy the Code and Send SMS like below to the below Mentioned Number.
4 Digit Batch Code to 7090670906
4. You Can Also use These Center Fresh LOT Numbers
| | | |
| --- | --- | --- |
| NHUU | PGUC | W5S9 |
| UDRE | R8WV | SWTU |
| PCES | ET3U | CKEU |
| R5XR | N788 | DXG5 |
5. Use Any of the Above LOT Numbers and Send SMS
6. You'll receive message instantly that your Entry is Registered.

7. Done!! You'll Get Notified Once you Win Free Recharge or Smartphone
8. You Can Send SMS Between 7th Feb to 14th April and You can Send Many Times Again and Again Till You'll Win Free Recharge and Smartphone.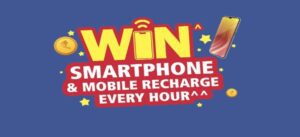 ---
More Details About the Offer
This voucher entitles the end user Rs.100 Cashback on select Online Wallet or Bank Account Or UPI. The customer will be responsible for their choice of the cashback transfer method. The denomination of the cashback will be mentioned on the voucher/scratch card.
The contest is valid only in India from 07/02/2021 to 14/04/2021
The period from 09:00 a.m. on 12th January 2021 to 09:00 p.m. on 13th February 2021 is the 'Pre-Contest Period'
The Cashback Voucher can be redeemed on or before 01/05/2021.
This offer is subject to promotional availability.
Any consumer purchasing promotional product shall be eligible to receive a Voucher inside the pack. The customer shall receive a cashback of an amount equivalent to the value as mentioned in the Voucher.
By redeeming the Offer provided on the same, a participant agrees to be bound by the terms and conditions
These Conditions apply to every Participant redeeming the offer given by Premier Sales Promotions Pvt Ltd, No claim shall lie for any redemption requests made after the expiry of the Offer Period.
All Participants agree that wallet partner offering discount vouchers may at any time stipulate additional terms and conditions for redemption of the discount vouchers and such terms and conditions shall be binding on the Participants and shall apply to every redemption of recharge/discount voucher by the Participants.
Any disputes or differences in connection with the offer shall be governed by laws of India and shall be subject to the exclusive jurisdiction of the Courts at Bengaluru.
The wallet partner reserve the right to restrict cashback for any account with suspicious behaviour or invalid details/credentials. The wallet partner has the right to ask for documents to prove the customer/user identity.
---