Reading Time:
2
minutes
Aquaguard Free Demo
How to Book Aquaguard Water Purifier Free Demo at your Home
Eureka Forbes Water Purifier Service, Eureka Forbes Aquaguard, Eureka Forbes Demo Request, Free Demo of Aquaguard, Book Aquaguard Demo, Aquaguard Water Purifier – Hello Friends, Hope you are enjoying Free Amazon Vouchers Offers. Today you'll get to know how to register for Eureka Forbes Aquaguard Free water purity demo at your home. Last time, we published Kent RO Water Purity Demo and you enjoyed it and many were availed of the offer.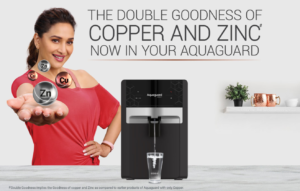 Aquaguard, the world leader in water purification has once again showcased its superiority by giving you an upgrade with an advanced Zinc Booster. So enjoy pure, healthy drinking water that has the Double Goodness of Copper and Zinc.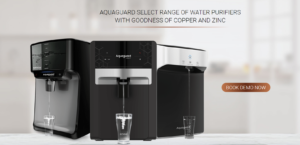 The world today has become more cautious about health. People are now inclined towards consuming micro-nutrients to stay healthy. Zinc is one such micro-nutrient and with the dedicated efforts of Our Experienced Scientists, you can now get the goodness of Zinc in your water.
---
How to Book Aquaguard Water Purifier Free Demo at your Home
1. As a first step, Visit the Eureka Forbes Demo Register page from the below Link
2. There you will see the Form to Register for Water Purity Test Demo
3. Now Enter your Name, Pincode, City, and Mobile Number & verify it with OTP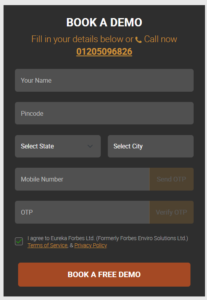 4. Finally click on the Book A Free Demo button
5. That's It. customer care representative will get in touch with you shortly.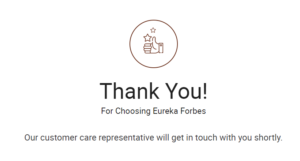 6. Once you receive the call from the representative, Give them your address
7. Nearest store person will come and show you the demo at your home for Free
8. Done !! Enjoy…
---
Need More Details? If you still have any doubts about this offer or need more information, Just comment below and we'll surely help you.
Don't forget to share this article on WhatsApp, Facebook, Instagram, and Twitter
0.0 out of 5 stars (based on 0 reviews)