Reading Time:
3
minutes
StoryTel Premium Subscription for FREE
Working offers to Get StoryTel Unlimited Premium Subscription For Free
Free Subscription Offers, StoryTel App Free, StoryTel App Free Subscription – Hello Friends, Hope you guys are enjoying our Free Subscription offers and Free Membership offers. We recently posted how to get The Wall Street Journal Free 1-year Subscription. Here we are back again with one more StoryTel Premium Subscription Plan for Free.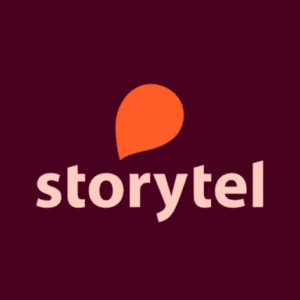 Storytel is one of the world's largest subscribed audiobook and e-book streaming services and offers listening and reading of more than 500000 titles on a global scale. Our vision is to make the world a more empathetic and creative place with great stories to be shared and enjoyed by anyone, anywhere and anytime.
StoryTel offers you to Open your ears to a world full of stories. Listen to thousands and thousands of stories anytime anywhere. Indian Languages available are मराठी, हिंदी, മലയാളം, தமிழ், বাংলা, తెలుగు, ಕನ್ನಡ, অসমীয়া, ગુજરાતી, ଓଡ଼ିଆ.
---
Method #1 – Free StoryTel Subscription Using Timeprime Premium
Times Prime is an exclusive membership program that touches and elevates every aspect of your life. As a member of Times Prime, you gain access to a wide range of exclusive content with great benefits from the brands you love. It's a one-stop-shop for all your entertainment and lifestyle needs.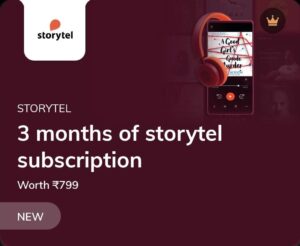 StoryTel 3 Months Free Premium Subscription is one of the many benefits of Timesprime. So you can get Timesprime Membership for Free on Flash sales where they provide big discounts and cashback on Timesprime subscriptions and we post that on this blog as well as on our Telegram Channel.
Follow below Steps to Claim Offer
1. Open Timesprime App and Log in with your Mobile Number
2. Click on Benefits in the bottom menu and Scroll Down, There you will see 3 Months StoryTel Subscription Offer Banner
3. Now Tap on That and Click on Generate Coupon
4. Now Claim Coupon Code on StoryTel Redemption Page – Redeem Here
5. Install StoryTel App and Watch Premium Content for Free. Enjoy !!
Note: This Offer is Only For Timesprime Members, You Can get Timesprime 1 Year Membership For Free on Flash Sale and we will post in this Blog as well as on our Telegram Channel
---
Method #2 – Free StoryTel Subscription Using Paytm cashback Points
Cashback Points are exclusive Rewards program for Paytm Users. Earn Points whenever you add money to your wallet, spend money, or pay via Paytm, Money Transfer, Recharge, and Bill Payments. You Can Redeem These Cashback Points for a Free 1 Month StoryTel Subscription.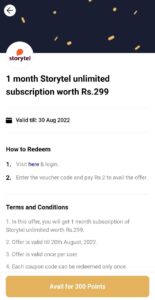 Steps to Claim StoryTel Subscription for Free Using Paytm Cashback Points
1. First of All, Install Paytm App from Here and Signup or Login to your Account
2. Scroll Down Till The End and You Will See the "Cashback & Offers" Section
3. Tap on That Option and You will see your Cashback Points
4. You need 300 Cashback Points to Redeem StoryTel Subscription for Free for 1 Month
5. You can check out the below post to know how to Earn Paytm Cashback Points daily
Check Here to Know How to Earn Free Paytm Cashback Points Daily
6. So Tap on the Cashback Points and Scroll down till you see Popular Subscriptions
7. Click on View All and Tap on StoryTel Banner where you see all the details
8. Now Tap on Avail for 300 Points and Redeem a Free StoryTel Premium Subscription for 1 Month
9. Done !! Copy the Voucher Code on Paytm App and be Ready to Claim
10. Now Claim Coupon Code on StoryTel Redemption Page – Redeem Here
11. Install StoryTel App and Watch Premium Content for Free. Enjoy!!
---
Need More Details? If you still have any doubts about this offer or need more information, Just comment below and we'll surely help you.
Don't forget to share this article on WhatsApp, Facebook, Instagram, and Twitter
1.0 out of 5 stars (based on 1 review)