Reading Time:
3
minutes
Nestle Milkmaid Contest 2021
Win Oven Worth ₹5000 Every Hour From Nestle Milkmaid Contest
Nescafe Milkmaid Offer, Lot Number, Free Oven – Hello Friends, Hope you guys are doing well these days with our Earn Free Paytm Cash Trick and also, we recently posted an amazing offer to Win a Free Makeup Kit from Myglamm. Today we are back with another loot offer where you can win Oven Worth ₹5000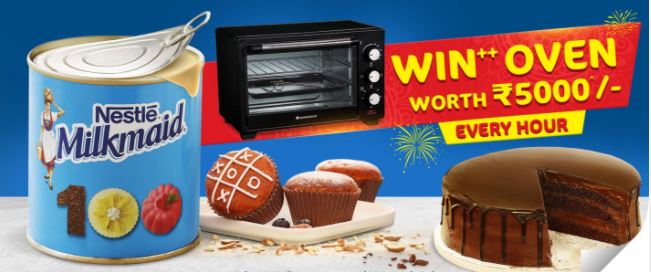 In this article, we are going to provide you with a leaked Lot code of the Nescafe Milkmaid Offer where you just need to send an SMS with the given Lot Code to the given Number. This offer is based on the Nescafe Milkmaid LOT Number and based on your luck. They are giving away one Oven worth ₹5000 every Hour
Nestle Milkmaid Free Oven Offer Details
| | |
| --- | --- |
| Nestle Win With Milkmaid Contest | Offer Details |
| Prize | Wonderchef Oven |
| Winners | 828 Winners (12 / Day) |
| Offer Date | 28 Aug'21 to 04 Nov'21 |
| LOT Number | 12310451ZA |
Also, Read: Get Free Bitcoin on Signup to Coinswitch Kuber – Instant Redeem
---
How to Win Free Oven Worth ₹5000 from Nescafe Milkmaid Offer
1. First of All, Visit Any Retail Store and Purchase the Nescafe Milkmaid Promo pack
2. Make sure Offer is mentioned on the Nestle Milkmaid 400 g Tin Packs
3. Then Find the Lot Number printed on the Nescafe Pack
4. Now Register by sending SMS in the below format to the below Number
SMS "Lot. No." to 7090670906

12310451ZA to 7090670906
More LOT Numbers Will be Added on Telegram Channel
5. You will receive the participation confirmation message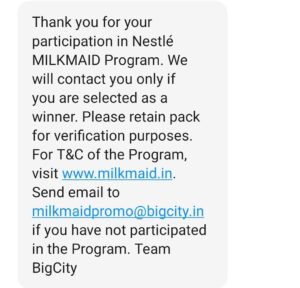 6. Done !! You have entered the contest now and wait
7. They will Select Winners and contact you if you are a Winner
8. Then Nestle's Partner Agency shall process the gift for the winner
Tip: There will be a Winner Per Hour, So Always try to send an SMS in the Less Traffic Hours Like in the Afternoon or Midnight
---
More Details About Nestle Milkmaid Contest
Consumers can participate by sending an SMS with LOT NO. printed on the pack in the following format: SMS LOT No. to 70906 70906
The Program will commence from 09.00:01 AM on 28/08/2021 to 08:59:59 PM on 04/11/2021
For Wonderchef Oven: 828 winners will be selected from ROI
Time of participation will be defined as the time at which the entry is received through the SMS mode of participation at Nestle India Ltd computer.
This Program is valid only in India except for the state of Tamil Nadu.
The Program shall run on the SKUs of Milkmaid 400 g Tin Packs.
Once the Winners are selected, the Partner Agency appointed by Nestle India Ltd. shall process the gift for the winner.
In case of a positive response from the shortlisted winner, each such shortlisted winner will be required to send the Copy of Address proof (Electricity bill or Mobile Bill or Driving License or Voters ID) and A picture of Promo Pack with the Lot No. clearly visible
This will be referred to as Participation Package for the winner. The completed Participation Package needs to be sent by email to [email protected]
Upon receipt of the Participation Package, Nestle India Ltd.. or its Partner Agency shall scrutinize all documents. If all the documents and the wrapper submitted are in order and valid then the shortlisted participant will be treated as a Confirmed Winner.
No prize will be awarded if the information presented by the Participant(s) at the time of entering the Program is not factually correct.
The cost and expenses of postage shall be borne by the participant himself. Nestle India Ltd. or the Partner Agency shall not be responsible for any accident or mishap or loss of the Participation Package by the participant in transit.
During the Program Period, winners will be selected for Wonderchef Oven Prize ( https://www.wonderchef.com/collections/otgs/products/wonderchef-oven-toaster-grill-otg-19l )every hour (from 9AM to 9PM) for the Program period of 61 days (5th September to 4th November, inclusive of both dates). Therefore, there will be total of 828 such prizes which will be declared during the Program period.
A participant, subject to valid entry, can win a maximum of 1 Reward during the program period, from a mobile number and address.
From the Valid Entries received, the Organizer will select 12 winners daily (828 in the entire promotion) who will win Wonderchef Oven throughout the Promotion Period
Winners will be selected by the Organizers using randomizer software during the promotion period.
Prizes will be given subject to the winner satisfying the verification process of Nestle India Ltd
---
Need More Details? If you still have any doubts about this offer or need more information, Just comment below and we'll surely help you.
Don't forget to share this article on WhatsApp, Facebook, Instagram, and Twitter