Reading Time:
4
minutes
Maggi Super Bonanza Offer
Win Samsung M31, Smart TV & More using Leaked LOT Number Added on Maggi Super Bonanza Offer
Maggi Super Bonanza Offer, Win Exciting Prizes, Woohoo Offers – Hello Friends, Here we are back with another Loot from Maggi Super Bonanza offer where you can win Smart Tv or Samsung M31. Recently we have posted Free Amazon Vouchers Trick by filling short surveys and we have already published a trick to Earn Free Paytm Cash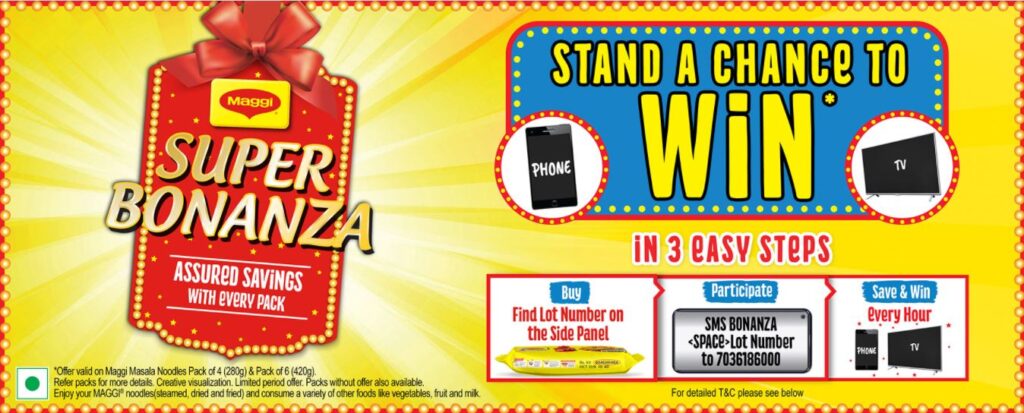 In this article, we are providing you full details about the Maggi Super Bonanza offer where you have to buy a Maggi pack and you will get a Lot Number on the side panel, then note down that and Just send an SMS to win Free smart tv or Free smart phone. But the good thing about this post is we are going to provide you with the Leaked LOT Number so that you need not to buy a Maggi pack
Also, Read: Check how to get Amazon Audible Membership for Free
---
How to Send an SMS and Win Smart TV or Smart Phone
1. First of All, We Have Given a Leaked LOT Number and If you Don't Want to Buy, Then you can use the BELOW Leaked Number and Send an SMS.
Leaked LOT Number – 12636640CX
2. If you Want to Buy, then Visit Any Retail Store and Buy a MAGGI 2 Minute Noodles Masala 4 pack OR MAGGI 2 Minute Noodles Masala 6 Pack
3. Now Find the LOT Number on the Side Panel of the Pack
4. Copy the LOT Number Given on the Maggi Pack
5. Now send an SMS with 10-digit valid Lot Number Copied Above or Below Given Leaked LOT Number to the below Mobile Number in the Below Format
BONANZA 12636640CX to 7036186000
6. After sending the SMS, You will get a confirmation through an SMS about your participation.
7. Done with your Participation and wait for the SMS if you are a Winner
Tip: Send SMS in the Afternoon or during Non-Peak hours. So that chances of Winning is More. You Can Send SMS Only From 10 AM to 8 PM as per the Offer Terms
8. Winners will receive a congratulation SMS along with a link & claim code
9. winners need to click on the link, enter the code, mobile number & verify with OTP
10. Done !! Enjoy…
---
More Details About This Offer
The Participants who send the valid and correct SMS between 10AM to 8PM during the Program Period (01/10/2021 to 5/11/2021) are eligible to participate in the Program.
The Program is applicable on specific pack of MAGGI 6 (420 gm) and 4 pack (280gm).
A total of 360 winners will be selected wherein winners will be announced for every hour between 10AM to 8PM through a scientific randomizer method
The winner stands a chance to receive either a Smart Phone Samsung M31 (6/128GB) (models- subject to availability and continuation of model) or a Smart TV- Samsung Smart TV 32T4700 (models- subject to availability and continuation of model) of any price range as a gift.
Participants have a chance to win 1 time only from a single mobile number
The winner generation will be done based on Valid Code and mobile number
The shortlisted winner will receive a congratulations SMS. SMS to have a link & a claim code. Shortlisted winner needs to click on link, enter code, mobile number & will do an OTP validation.
Shortlisted winners need to upload KYC details & submit the form.
Every week 2 round of calls will be made to those shortlisted winners who have not filled the KYC details and to inform them to click on link received via SMS and complete the process.
Claim code validity will be till 15th November 2021.
Winner will not be selected from the state of Tamil Nadu as the program is not for State of Tamil Nadu
Every week 2 round of calls will be made to those shortlisted winners who are yet to share their details as per process defined in "How To Participate" point number
Nestlé India at its discretion may ask the Winners to furnish Election ID Card, Passport, Driving License, or similar government ID
Winners will be required to retain and furnish on demand the wrapper of the pack with the winning code.
List of winners will be available on www.woohoo.in/MAGGIsuperbonanza
Every Day ten (10) of the valid participants will be selected as the winner of a daily prize. The daily prize will entitle the winner a smart phone/smart TV. The size, color, brand, make, model and vendor/dealer of the Smart TV/ Smart Phone to be awarded as winning prize shall be selected by Nestle at its sole and absolute discretion.
---
Need More Details? If you still have any doubts about this offer or need more information, Just comment below and we'll surely help you.
Don't forget to share this article on WhatsApp, Facebook, Instagram, and Twitter