Reading Time:
4
minutes
Maggi Summer Bonanza LOT Code Offer
Win Free Water Bottle, AC, Fridge and Water Cooler From Maggi Summer Bonanza
Maggi Summer Bonanza Offer, Maggi Summer Bonanza Free Water bottle, Maggi Summer Bonanza LOT Code, Woohoo Offers – Hello Friends, Here we are back with another Loot from Maggi Summer Bonanza offer where you can win a Free Water bottle and other Goodies. Recently we have Published many offers to Earn Free Amazon Vouchers Trick by filling out short surveys and tricks to Earn Free Paytm Cash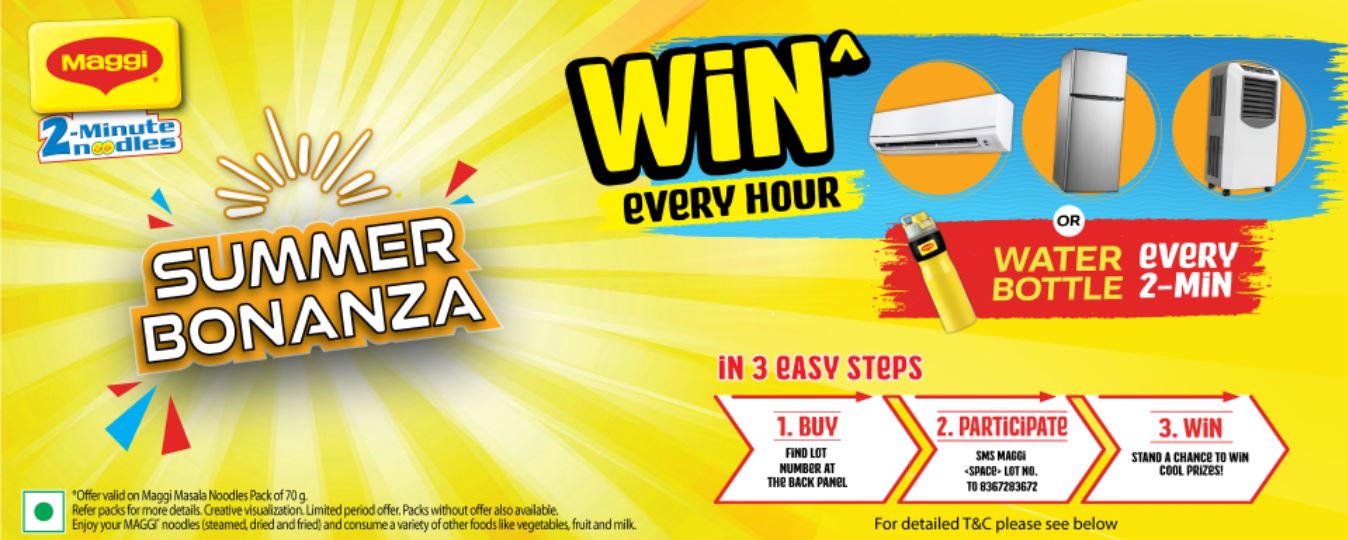 In this article, we are providing you full details about the Maggi Summer Bonanza offer where you have to buy a Maggi pack and you will get a Lot Number on the side panel, then Just send an SMS to win a Free Water bottle, AC, Fridge, Water Cooler. But the good thing about here is we are going to provide you with the Leaked LOT Number so that you need not buy a Maggi pack
Woohoo Maggi Summer Bonanza Offer Details
| | |
| --- | --- |
| Maggie Summer Bonanza | Offer Details |
| Prizes | Water Bottle, Water Cooler, Refrigerator, AC |
| Winners | 13,950 Winners |
| Offer Validity | 10/05/2022 to 15/07/2022 |
| Offer Time | 10 AM to 8 PM Daily |
| SMS Format | MAGGI LOT Code to 8367283672 |
| LOT Number | Leaked LOT Codes Added |
---
How to Send an SMS and Win Free Watter Bottle from Maggi Summer Bonanza Offer
1. First of All, Visit Any Nearby Store and Buy a promotional MAGGI pack. If you don't want to buy, then use our Leaked LOT Codes added below
2. Make Sure The Offer is Mentioned on the Pack before purchase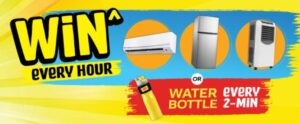 3. We Have Given a Leaked LOT Number. So you can use any of the Below LOT Code
Leaked LOT Codes – 21139939AA | 21156640DA
4. If you Purchased, Then You can Find the LOT Number on the Side Panel of the Pack
5. So Copy the LOT Number Given on the Maggi Pack or Above Given Leaked Code
6. Now send an SMS with a 10-digit valid LOT Number to the below given Mobile Number in the Below Format
MAGGI <SPACE> 21139939AA <to> 8367283672
7. After sending the SMS, You will get a confirmation by SMS about your participation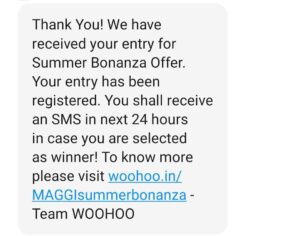 8. Done with your Participation and wait for the SMS if you are a Winner
Tip: Send SMS in the Afternoon or during Non-Peak hours. So that chances of Winning is More. You Can Send SMS Only From 10 AM to 8 PM as per the Offer Terms
9. Winners will receive a congratulation SMS along with the details to claim the prize
10. Every day 13,500 Winners will be selected from 10 AM to 8 PM for every 2 mins
11. You can Participate a Maximum of 3 times per Mobile Number
12. Done !! Enjoy…
13. Join us on the Telegram Channel for New Leaked LOT Codes
---
Terms and Conditions of Maggi Summer Bonanza Offer
The Participants who send the valid and correct SMS between 10 AM to 8 PM during the program period (10/05/2022 to 15/07/2022) are eligible
A participant can participate up to 3 times in the program.
A participant can be declared a winner of the competition only once throughout the promo duration
A total of 13950 winners will be selected wherein winners will be announced for every 2 minutes & every hour between 10 AM to 8 PM (i.e.,13500 in every 2 minutes category & 450 in every hour category)
For every 2 minutes, one winner wins a water bottle & for every hour one winner to win a water cooler or double door refrigerator or split AC. There will be a total of 310 winners per day.
Entries coming outside the program period & program timings will not be considered for winner selection and will be summarily rejected.
Customers will be notified via SMS to enter the program during the stipulated timings.
The Program is applicable to the specific pack of MAGGI Single Pack (70g).
The Program will start at 10:00:01 AM on 10 May 2022 and end at 07:59:59 PM on 15 July 2022. These entries must be done in the allotted time frame of 10:00:01AM to 8 PM every day Any entries attempted and/or made before or after the prescribed/allotted time will summarily be rejected.
The participants are required to keep the pack with the batch code used for participation safe, as they may be asked to submit a copy of the pack with the visible winning code if they are shortlisted as a winner in case of any queries/complaints.
The winners will be randomly selected (basis randomizer system). Winners will not be selected from the state of Tamil Nadu as the program is not for the State of Tamil Nadu.
A draw through random scientific selection will be conducted every day by or before 9 PM for the selection of the winners
Participants have a chance to win 1 time only from a single mobile number during the program period.
Once the Winners are selected via system randomizer, Winners will receive a congratulations SMS. SMS will include a link & a winning code.
---
Need More Details? If you still have any doubts about this offer or need more information, Just comment below and we'll surely help you.
Don't forget to share this article on WhatsApp, Facebook, Instagram, and Twitter
0.0 out of 5 stars (based on 0 reviews)