Reading Time:
2
minutes
FREE Assorted Collection Sparkling Water
PolkaPop Pack of 4 FREE Assorted Collection Sparkling Water
PolkaPop Assorted Collection, PolkaPop Sparkling water – Hello Folks, We hope you guys are enjoying our best offers and deals, we have recently posted how to earn Free Paytm Cash every day. Also, we have posted several methods to order Video Card for free and today we are going to provide a freebie offer to grab assorted collection sugar-free sparkling water from PolkaPop. So apply coupon provided in the below section and get 100% discount at checkout.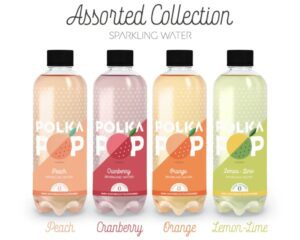 Polka Pop is a Naturally Flavoured Sparkling Water in India with 0 Sugar and 0 Calories. Available in flavours of Peach, Lemon-Lime, Cranberry and Orange! They came across the beauty of sparkling water while travelling and fascinated by this simple, yet a delicious product. as a result, They dug deep and uncovered the mysteries and beauty of what is Sparkling water and then started experimenting and quickly fell in love with the product and knew they had to bring it back to India. What started as curiosity into a way of life is now a company hoping to introduce and uplift the sparkling water movement in India!
Unable to make up your mind? Are you someone who is new to sparkling water and want to get your feet wet? They have just the pack for you! Presenting the Polka Pop Assorted Collection where they deliver a little bit of everything to you! It is the perfect pack to try out the flavors and see what you like best.

---
How to Order Assorted Collection Sparkling Water for FREE
1. First of All, Visit the PolkaPop Offer Page in the below given link.
2. Then scroll down and click on Buy it Now to continue.
3. Please note, this is a Launch offer so they are giving away Pack of 4 – 350 ml each

4. Add your email id, phone number and delivery address, then continue to shipping.
5. Click on Continue to payment and apply below given Coupon
HOLIDAYOFFER
6. Complete payment by paying shipping charges, if applicable
7. Done!! This is pre-order offer so product will be delivered to you before January 31st.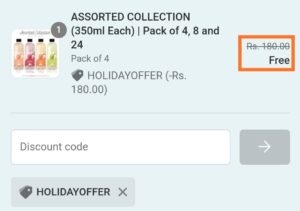 ---
The Package Contains
Peach Polka Pop
Cranberry Polka Pop
Orange Polka Pop
Lemon-Lime Polka Pop.
---
Please Note –
1. They are currently manufacturing the product and are accepting ONLY pre-orders now. They guarantee priority delivery to your pre-orders by 31st January 2021.
2. They are currently only shipping to Chennai and Bengaluru.
---