Reading Time:
5
minutes
CRED App Refer and Earn
Credit Card Bill Payment App and Refer and Get up to Rs.1000 Per Refer On CRED App
Credit Card Bill Payment App, CRED Referral Code, Credit Card Offers, CRED App, CRED Rewards, Bill Payment App, CRED, CRED Offers, Amazon CRED – CRED is a simple platform that acts as a hub for credit card payments. only individuals with a credit score of 750 and above can access the service. CRED is the Best App to pay Credit Card Bills & get back the money you paid as Coins and also, you can play games on the app and win exciting rewards every day.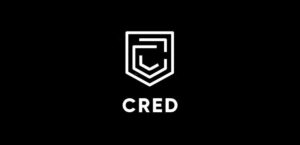 Cred App is a fantastic app for Credit card users. This app is designed to manage all your credit cards at one place and you set notification alerts to remind you to pay bills before the due date, Link all your Credit cards and pay on time in one place as well as get rewarded with discounts and free products on the branded products.
We regularly post refer and earn offers on this blog and also on our Telegram Channel. So you'll not miss any offers and deals. We recently posted about StepSetGo App in which you will get Free products and discounts just for walking. Also, we posted an AJIO Loot offer where you can order Free Rs.100 Worth of Shopping
is CRED App Safe?
CRED app is PCI DSS v3.2.1 certified and implemented industry-standard security controls operated by PCI Council and helps protect all of its customer's card data in a highly secure manner. And CRED app has successfully completed UPI compliance as per Circulars 15B and 32 by NPCI. The CRED app is an ISO 27001: 2013 certified company successfully meets the "data localization" requirements as per the Reserve Bank of India (RBI) guidelines.
---
CRED App up to Rs.1000 Cashback on Every Credit Card Bill Payment
1. First of All, Install the CRED App From the Given Link Below
2. Now Open App and Then Click on Apply to CRED
3. Now Enter Your Mobile Number which is linked to your Credit Card and Verify with OTP.
4. Then Enter Your First Name, Last Name and Email Address and Continue.
5. Now Allow all Asked for Permission and Wait for Some Seconds.
6. Now It Will Fetch your Credit Score Automatically. The Credit Score you get will Convert to Points that you can Redeem for Rewards.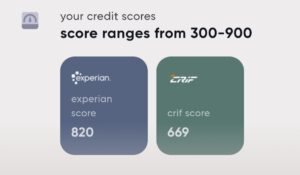 7. Once you are on Homepage, Click on Cards in Bottom Menu
8. Select your Credit Card and Pay your Bill of a Minimum of Rs.1000
9. Once payment is done, How much you Pay, You'll get the same as CRED Coins. You can use those coins to play games and win rewards, Also, you can claim Free products and Discounts on Top Branded Products.

10. Now Click on Club in Bottom Menu and you'll See the Banner Like Below.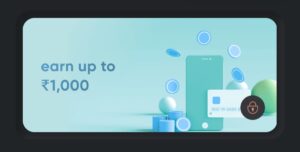 11. So Tap on That and Click on Redeem to Burn 1000 Coins.
12. You'll Win up to Rs.1000 and the same amount will be paid to your Credit Card by CRED.

13. The same way, you'll be able to win up to Rs.1,00,000 When you Pay on CRED
Pay a Bill of Rs.1000 – get up to Rs.1000 Cashback
Pay a Bill of Rs.5000 – Get up to Rs.5000 Cashback
Pay a Bill of Rs.20,000 – Get up to Rs.10,000 Cashback
Pay a Bill of Rs.50,000 – Get up to Rs.1,00,000 Cashback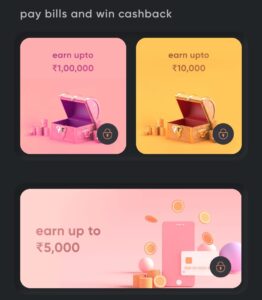 ---
CRED Scan and Pay – Get Assured Cashback
CRED Pay is now providing assured cashback on scan and pay UPI transactions. You can regularly use CRED Pay as your UPI app and get assured real cashback on each transaction
Open CRED App and Go to the Pay option in the bottom menu
Tap on the scan using the CRED option on the top of the screen
Now scan any UPI QR codes and pay using CRED Pay UPI
Instantly, you will get assured up to ₹100 cashback
Done !! Enjoy…
---
CRED Spin and Win Exciting Prizes
Open CRED App and Go to Club in Bottom Menu
Scroll down and Click on the Jackpot banner
Just click on Spin and Win Amazing Prizes Daily
Cred Store Shopping Offer Details
Open CRED App and Go to

Club

in Bottom Menu

Then Move to Store on the Top Menu Bar
So here you will see all the products so that you can shop at discounted price
Many Times, CRED Will give away Products For Free or At Loot Price
1. Recently, 4700BC Popcorn was Sold at Rs.48 Only + Rs.50 Cashback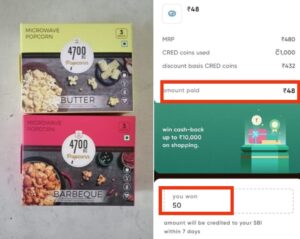 2. Rahul Dravid Signed Cricket Ball Was Given Away For Free in Exchange with CRED Coins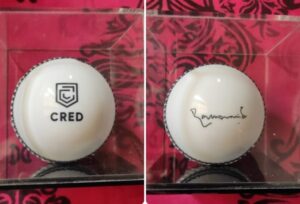 3. Many More Sold at Loot Prices, We Alert All Loot Deals on Our Telegram Channel
---
CRED App – Refer and Get up to Rs.1000 For Every Friend
1. First of all, Move to the Homepage, then Scroll down and you'll see the below banner.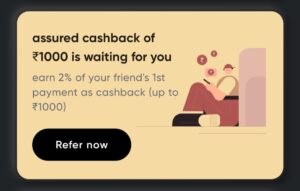 2. Click on Refer Now and Share your Link with your Friends and Ask them to Join CRED using your Link
3. Refer Friends as Many as You Can and For Each Refer You Will Get 10 Gems. Also, You will get a chance to shop with Amazon Gift Cards.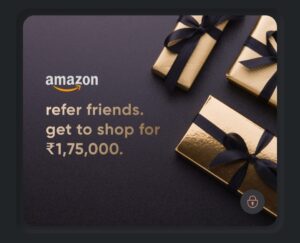 4. Once your friend joins CRED, Open Club and you'll see 10 Gems
5. Scroll Down and you could see the below banner, Open that and Click Redeem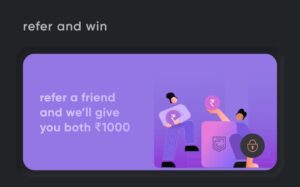 6. Done!! You'll get 2% up to Rs.1000 of your Friend's Bill Amount.
Proof Of Referral Cashback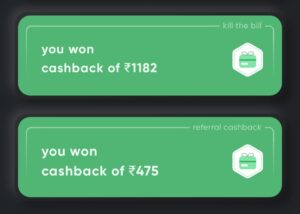 One More – Referred 3 Friends and Got 30 Gems and Redeemed for Amazon Rs.1000 Gift Card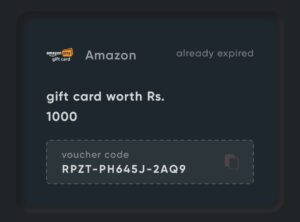 ---
How to Check Credit Score on CRED App
1. Open Money Tab in the Bottom Menu and Click on Credit Score.
2. Now you'll see the already fetched Experian and CRIF Score.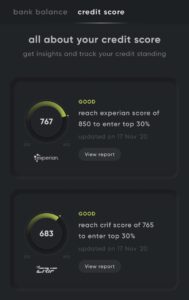 3. Tap on anyone and Click on Refresh Score to fetch your latest score.
4. Click on Update Now and 5000 Coins will deduct and you will get the latest Credit Score.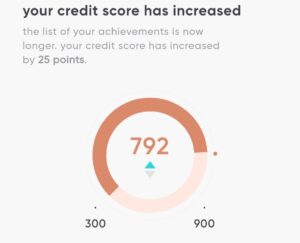 ---
Below Are The Top Rewards Looted On This App
1. Drivezy Voucher For Car Rent Worth Rs.1500 For FREE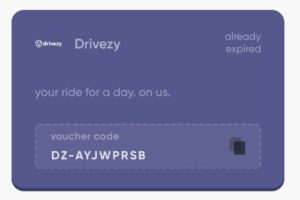 2. Eat.Fit Free Coffee and Dessert.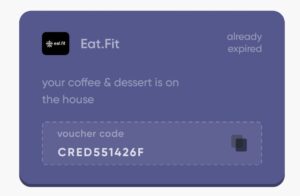 3. Free Coffee at Third Wave Coffee Roasters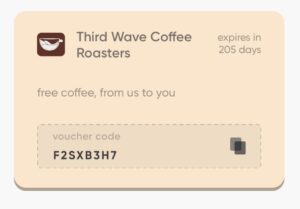 4. Drivezy Voucher For Bike Rent Worth Rs.500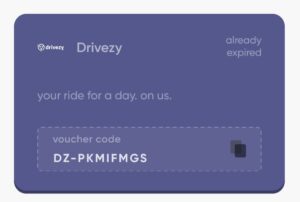 5. Kill the Bill Option was there Previously on CRED and Won Rs.1000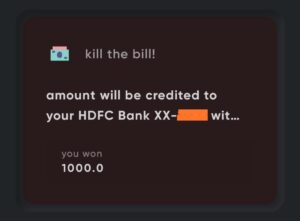 ---
Need More Details? If you still have any doubts about this offer or need more information, Just comment below and we'll surely help you.
Don't forget to share this article on WhatsApp, Facebook, Instagram, and Twitter
0 out of 5 stars (based on 0 reviews)