Reading Time:
3
minutes
Bourbon Football Friends Contest
Win Free OTT Subscriptions from Bourbon Football Friends Contest
Promotional Offers, Bigcity Promotions – Hello Friends, Hope you are enjoying our Free Shopping Offers. We already published online fashion products offer to get Bewakoof Products at steal prices. Here we are back with another football game online offer from Bourbon where you can play football online as individual or with friends and win Free OTT subscriptions and chance to win Free Gaming console and trip to Qatar.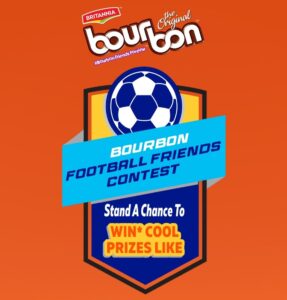 In this article, we are going to provide you with all the details on how to participate in Bourbon Football friends contest where you can easily win Free OTT subscription and you can score high along with your friend and get a chance to trip to Qatar and win Free Gaming console. Read the article for more details on this contest.
Bourbon Football Contest Prizes
FREE OTT Subscriptions – Every Hour top 10 teams will win Free OTT subscriptions Like Amazon Prime, Voot Etc.,
Free Gaming Console – 32 Teams get invited to play an esports tournament and win a Gaming Console
Free Trip to Qatar – 5 Winning Teams of the esports tournament win a free trip to Qatar
---
How to win Free OTT subscriptions from Bourbon Football Contest
1. First of all, you don't need to buy any Bourbon promotional pack
2. Just Visit the Bourbon Contest Direct Link from the below Link
3. Once on the Bourbon contest page, Tap on the Play Now Button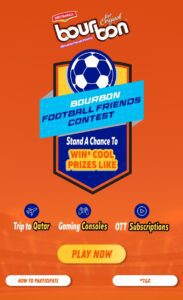 4. Now you can play the football game on same device or play on a different device
5. Just Select the Speed of your Kick by Tapping on the right side of the screen by halt the moving ball
6. Turn your head now in the direction of where you want to kick the ball (make sure you allow the camera access)
7. If you Score back-to-back goals in the smallest amount of time, you will also receive bonus points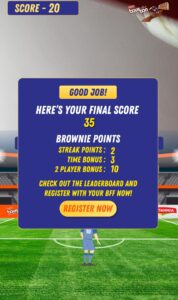 8. Register your team by providing your Name and Mobile Number after you finish the game to be eligible for rewards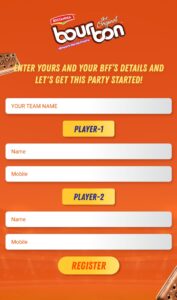 9. To Stay among the top teams list on the scoreboard, you have to maintain a high score. Just keep try playing game to score high
10. Done !! Enjoy…
---
More Details on Bourbon Contest
The Contest will be valid from 10:00:01 a.m on 7th Sep 2022 to 11.59:59 p.m on 22nd Oct 2022
A total of 32 teams ("Finalists") will be selected. A total of 12 finalists will be selected after 15 days from the start of the contest i.e. after 22.09.2022. A total of 12 finalists will be selected after 30 days from the start of the contest i.e. after 07.10.2022 and the last 8 finalists will be selected after 45 days or at the end of the contest period
The finalists will be invited to participate in an E-Sports tournament ("Tournament"). The tournament will be held within 2 weeks of the conclusion of the contest. The Tournament will happen in Mumbai and the finalists (all 64 participants or 32 teams) will be provided return air tickets from their nearest airports to Mumbai.
Winners will get a trip to Qatar ("Main Prize"). The Main Prize will include return flight tickets to Doha (Ex- Mumbai) and 2 nights 3 days stay at a three-star hotel or equivalent. The Main Prize does not include transit (to and from the airports), food, visa charges, or any other costs whatsoever incurred by the Winners.
The responsibility of applying and procuring for the Visa will be of the winners. Britannia will not be responsible if the winner is unable to get a Visa in time.
All 32 finalists/teams, who reach the venue for the Tournament in time, shall be eligible to win a gaming console ("Second Prize"). Each of the finalist teams (two participants) shall be eligible for the Second Prize
Every winner shall be eligible for only one (1) Main Prize. Finalists shall be eligible for only one (1) Second Prize. Each participant can be declared an hourly winner only once during the period of the contest. Every Hourly Winner is eligible to win only one (1) Hourly Prize
The participants will have to provide their PAN Card details upon being shortlisted as a Finalist
---
Need More Details? If you still have any doubts about this offer or need more information, Just comment below and we'll surely help you.
Don't forget to share this article on WhatsApp, Facebook, Instagram, and Twitter
5.0 out of 5 stars (based on 1 review)